If you're like me, there has most likely been a time where you have been attempting to improve and organize your home, only to be met with frustration due to lack of space or a tight budget. It's an inevitable outcome when there is just so much space within a house to hold all the necessities, hey, even fun and entertaining things, that we have accumulated over the years.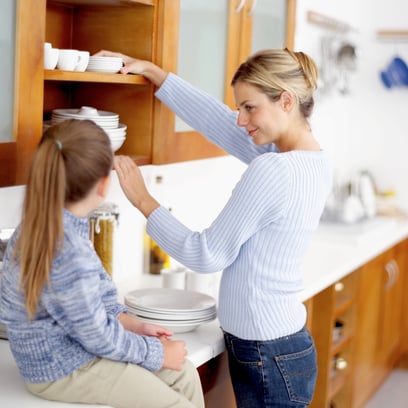 One thing I have been noticing in the homes of my friends who manage their space particularly well have been nifty sliding shelves in their cabinets. Nearly everyone has seen or knows someone with sliding shelves. Often times they're referred to as rolling shelves, slide out trays, pull out shelves, extending shelves, and the list goes on. But regardless of what you call them, there is no doubt that sliding shelves are an organizational blessing to any home space.
With simple installation, sliding shelves can be the instant and unexpected tool that will have you saying, "Who knew I had all this space?" Shelves That Slide are the number one- Tucson trusted pull out shelf company that is here to answer all of your home organization needs.
Although there are a multitude of names that these contraptions go by, there is no doubt that people are catching on to their various benefits. Here are the top 5 reasons to install Shelves That Slide today:
The Benefits
Saves money—Among many criteria, saving money is one of the highest priorities for people trying to improve their homes. Shelves That Slide provide an easy, do it yourself installation that allows you to sidestep those bothersome and often lofty installation charges. Also, through extending your shelves, you will be able to know what you already have on hand in terms of food or supplies, and save more money from not buying more of something you already have.
Saves time—Shelves That Slide are easy to install; they fit on to standard preexisting traditional cabinet shelves and can be installed in under 5 minutes. Shelfing installation tips are also included. The shelves come ready for install, not in a kit that requires complicated assembly. You can also save time from searching through endless cabinets, everything you own will be perfectly showcased on the shelf!
Provides Organization—Shelves That Slide make the most out of your preexisting cabinet space. Through adding an extended shelve, everything in your cabinet has its own place and will unclutter your shelves and pantry while eliminating the need to stack your items.
Easy Access—Since the shelves pull out, it eradicates the need to be getting on your hands and knees in order to search for something in the back of a cabinet. By pulling out the shelf, everything is right there on display without having to hunt for it! Adding these to small spaces can increase the functionality of the space as a whole, making access and storage a breeze!
Home Improvement—With Shelves That Slide, you can double your current space and be able to use every inch of your cabinet space. Adding these shelves not only increases the value of your home, it also makes it more enjoyable to do daily chores and activities.
The Products
Now, you may be wondering what the hype surrounding these shelves is all about. Once you visit the company's website, you can see the range of products that can be used throughout the house.
Although the most popular rolling shelves are generally found in the kitchen, pantry, or bathroom, the company provides pull-out shelving for other aspects of the home such as trash and recycling bins, various wall and drawer organizing units, hampers, blind corners, lazy Susan's, tip-out trays, and even TV shelves, taking standard organization to a whole new level!
Other common spaces that can be transformed with the sliding shelves are the garage, linen closets, and entertainment centers. The possibilities are truly endless.
Since the shelves come ready for install, there is no worry about fussing with hardware or assembly; the ordered brackets and slides are already in place when you pull them out of their shipping package, ready to go! Home improvement has never been easier.
If those aren't reasons enough, Shelves That Slide are a local company that have been in the business for two decades and strive to provide their customers with only the best products.
The Experts
Shelves That Slide is Arizona's original, most trusted and experienced pull out shelf company. This company truly cares about their customers which shows in their top quality products and outstanding customer service.
They are happy to assist customers in saving money and making their homes more efficient. With custom made shelves, DIY install, and factory pricing it is assured that you are getting the best quality sliding shelves and accessories than the "cheap" merchandise sold through other companies.
With over 20 years of experience, Shelves That Slide know what works and what doesn't! Once you have had pull out shelves installed, you will wonder how and why you ever lived without them.
Shelves That Slide is a company that holds themselves to a standard of affordable, easy, and seamless results that allow for homeowners across the state to achieve maximum outcomes in creating more space, organization, and accessibility—making life a little bit easier.
If you would like more information about Shelves That Slide and everything that they offer, visit their website or give them a call at 800-598-7390.
Topics: rolling shelves, shelves that slide, home improvement, rolling cabinets, shelves, sliding shelves, shelf organizer, pull out shelves