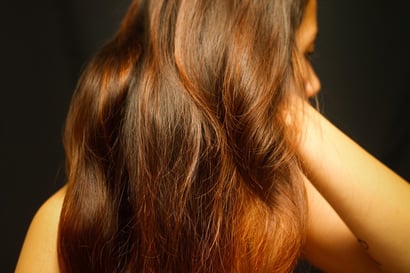 Hair loss can be a stressful and confusing time in one's life. But finding a solution to it shouldn't be. That's why Physician's Hair Institute has answered some of your most burning questions regarding procedures that Dr. Keene performs on her patients. With different procedures to choose from, it can be overwhelming to choose the best one for your needs. Here are some important questions to help you make the best decision when opting for hair restoration surgery.
What is Physician's Hair Institute's Hair Transplant Procedure?
The procedure separates hairs into small one, two, three and four hair grafts, called follicular units and double follicular units, and places them tightly together to recreate a natural hairline and overall appearance. Other factors such as matching the existing hairs' direction, using aesthetic ability to recreate naturalness where there is no native hair present, creating a variegated frontal hairline, using lateral incisions where appropriate (angle will always change based on area), using sharp point and custom cut blades as small as .7 mm which allows increased density, personal experience and participation throughout the surgery, and other advanced surgical techniques result in the state of the art hair transplant procedure performed by Dr. Keene.
At Physician's Hair Institute refined Follicular Units are used to create a natural hairline.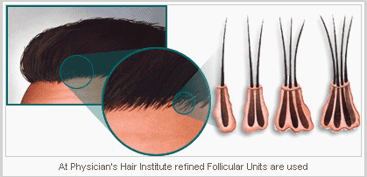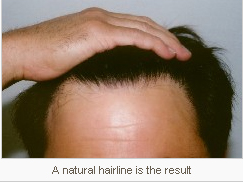 Will there be scarring after my procedure?
As a board certified general surgeon, Dr. Keene utilized a double suture closure (internal and external) for many types of surgeries. She felt that this type of closure would be best in hair transplant surgery as well. This consists of an internal layer of dissolvable suture, which is the strength layer of the closure, and an external layer on the skin of nylon suture. This can be removed in only 5-7 days, making it much more comfortable for patients. A single layer closure often requires 10-14 days, and the suture becomes irritating to the skin, causing an annoying inflammatory reaction. When this happens, the result can be the "railroad track" scarring where the nylon leaves a visible white vertical scar across the linear horizontal one. An internal layer can also help prevent broadening of the incision, especially for large megasessions when the closure can result in more tension on the skin. The absorbable suture remains for several weeks to allow the wound to gain strength, and the result can be a finer closure.
The double closure typically results in a virtually undetectable linear scar, that is completely covered by hair in the donor area, and is typically very difficult to find after it is completely healed. Results can vary in patients with unusually tight scalps, and those who have had previous surgery that has removed some of the scalp elasticity.
Dr. Keene also uses the trichophytic closure where appropriate, which is a type of closure that further camouflages the very small linear donor scar. It has been used in plastic surgery for some time, and was introduced at the 2005 European Society of Hair Restoration Surgeon's conference for use in the donor area closure. Dr. Keene adapted it, and has been using it since with excellent results. She uses this in patients requiring 1.5 cm or less donor strip width, who have sufficient elasticity, because it works best when tension is minimal. Basically, the technique involves making an incision to remove the donor area that is parallel to the hair shaft, then trimming one side of the epithelium (outermost layer of skin) high up on the hair shaft. When the donor area is brought together and closed, the hair shafts that were trimmed just below the surface of the epithelium will grow out through the suture line, masking the minute scar with hair.
How does Follicular Unit Extraction (FUE) compare to strip technique of hair transplant donor harvesting?
Dr. Keene offers FUE and the strip technique for donor harvesting. Both techniques result in very little scarring. The advantages to the FUE procedure is that it heals very quickly and minimizes recovery time. A disadvantages is that FUE can increase the trauma to the follicles, yeilding fewer 3-4 haired grafts. But if you prefer the FUE technique, she can provide it. In situations where the patient has had prior surgeries and has limited donor available, or needs a scar filled in and has very little donor laxity, the FUE may be preferable. Your personal preferences may be to avoid the need for suture. You can discuss your preferences in regard to FUE vs the strip technique with Dr. Keene in your consultation.
How does suture compare to staples in hair transplant surgery?
Staples are much faster and easier to place than sutures, but less comfortable than suture to lie on. They also tend to be more painful to remove. Staples are more convenient for the doctor, the appearance of the incision is comparable with both, and this has been documented repeatedly in the surgical literature. But Dr. Keene feels it is worth the extra time it takes to use suture in order to increase your comfort.
What are some of the other recipient site techniques used in the hair transplant industry and how are Dr. Keene's different?
Plugs: A plug occurs when a hole is punched into the scalp and a graft is used to "plug" the hole. When this occurs not only is a follicle grafted, but so is skin. This newly grafted skin can cause visible scarring. Dr. Keene has never done plugs, even though they were standard when she entered this field, she did not like the results and only entered the field after being introduced to micro incisions that were first done in Europe. Dr. Keene's current technique uses micro incisions placed close together which heal quickly, and the small amount of skin on the graft forms a tiny scab that falls off.
Since plugs are large amounts of hair and skin being placed into the scalp, unnatural "corn rows" appear because grafts are placed further apart. We insert follicular unit and DFU grafts of 1-4 hairs with very little skin moved, the small amount that does remain on the grafts sloughts off, so scars and rows do not occur.
Micro/Mini grafting: Micro grafts consist of one to two hairs and mini grafts consist of three to eight hairs. These grafts are placed further apart which can create an unnatural hairline and decreased density throughout.This technique is not done by Dr. Keene as in most cases the only natural appearing grafts are up to 4 hairs, and more than that starts to look grafty. Placing the grafts close together is also important, although it is important for patients to realize that the number of hairs moved is more important than the number of grafts, and 7000 1-2 haired grafts will not yield more density than 3500 1-4 haired grafts.
To learn more about Physician's Hair Institute and Dr. Keene, visit their website or call at 1-800-840-9761.
Topics: hair restoration, women hair loss, hair restoration surgery, hair transplant procedure, Physician's hair institute, hair thinning, men hair loss