ROLLING SHELVES
Nearly everyone has seen or knows someone with sliding shelves. Sometimes they're called "slide out trays" or "sliding shelves. Is it time that you've added these to your home?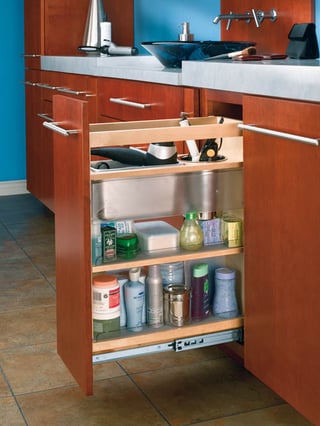 Some pull-out shelf companies charge a small fortune to install for the luxury of installing these shelves for you. The good news is that installing rolling shelves is an easy DIY project, and by installing them yourself, you can save that small fortune for something more important to you.
Shelves that Slide has been creating custom made pullout kitchen shelving for well over 20 years. However, their sliding shelves aren't just limited to your kitchen cabinets. They have solutions for:
…and all of the associated hardware and accessories needed to install and customize them for your personal needs.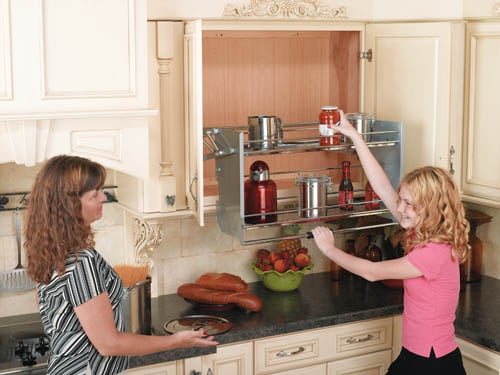 QUALITY
Shelves that Slide's custom sliding-shelves make your life easier. Only top-quality materials such as grade B/B 9-ply Baltic birch is used for the shelving. Blum drawer slides – some of the finest made – are a staple to their design.
They didn't invent sliding shelves. In fact, some form of sliding shelf has been around for the last 50 or so years. Look under someone's kitchen or bathroom sink – you'll probably see the cleaning supplies are kept in some sort of box or tote that can be easily slid out for use. This is the nucleus for sliding shelves.
BEGINNINGS
When Del Web conceived and created Sun City in the late 50's, the home design was done with seniors in mind. When Shelves that Slide started marketing their brand of sliding shelf, Sun City was the eventual target marketing area.
"We did zoned ads in the original Sun City area. We were a very small business and it was a big deal to us to spend the money we were spending and were excited at the calls we expected to receive." However, they were puzzled when all of those calls didn't roll in.
A TWO-HOUR DRIVE TO SUN CITY
Taking matters into their hands, they took a two-hour drive from Tucson to Sun City, stopping at the first home for sale they found (it was one of the original homes built in the late 50's/early 60's). Being honest with the real estate agent, they said they were just interested in seeing the kitchen Since it was one of the original builds, the kitchen had the deep-drawer storage with the only standard cabinet being under the sink.
Bingo! That's why they weren't getting any calls… the old homes didn't need sliding shelves.
However, the newer sections being built had traditionally-styled cabinets. They did a quick adjustment on their zone-ads and the phones started ringing.
When Shelves that Slide created their website, they were looking to provide a place were their local customers could turn to find out more information about their pull-out shelves and kitchen accessories.
"Our shelves that slide are great for kitchen, pantry and bathroom cabinets and they are great for home office and entertainment centers – but how do we let people know about this 'new' product that was now available when we could not afford to take out anything but small ads in the newspaper? The website gave us the ability to give more information to our customers without them having to have a stranger come into their homes."
GOING VIRAL
By providing their installation and measurement information, they were soon taking orders from all over the country. They received calls from as far away as New York City from folks who wanted to install the shelves themselves. Their website was quickly followed by an online store so folks from outside of Arizona had a secure method of ordering their products.
BE CAREFUL
Today, there are dozens of other sliding shelf companies that have sprung up online.
"I guess we let the genie out of the bottle. I guess we should be flattered that these companies liked our idea for slide out shelves so much that they are trying to imitate us."
The problem is that not all of those companies provide a quality product or experience that Shelves that Slide provides.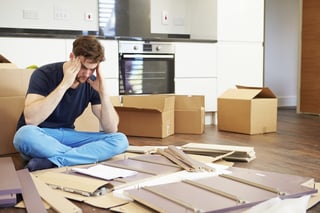 Some of the companies go so far as to send their customers bags of hardware without taking the extra step of attaching the sides to the shelves.
Shelves that Slide's goals are simple: offer top-quality shelves from a quality company that cares about their customers – and with over 20 years of experience, they know what works and what doesn't. "We ship our shelves ready to install with the ordered brackets already in place."
NO DISTRIBUTORS
"We don't sell our shelves to distributors. We sell you each pull-out shelf at a fair price direct from the manufacturer… us!"
They're happy to save their customers money on top-quality pull outs and kitchen cabinet accessories. DIY and factoring pricing assures you're getting the best quality pull out shelves and kitchen accessories than the "cheap" stuff sold by other companies.
"You do the simple installation yourself, avoid the middleman and have top quality sliding shelves as well as money left in your wallet."
If you are a contractor or handyman (or handywoman) and you would like to be added to our list of installers please send us your information including the area that you work.
For questions or further information contact us at sales@shelvesthatslide.com
Topics: pull out kitchen, tv stands, rolling shelves, tip out trays, home improvement, rolling cabinets, sliding shelves, lazy susan, shelf organizer, pull out shelves