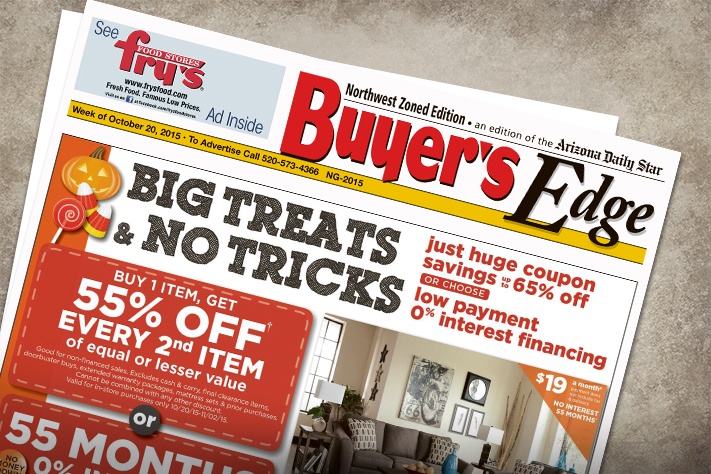 Total Market Coverage:
54% of Tucsonans get their coupons from ads in the mail or from the weekday Arizona Daily Star. With Buyer's Deals you can reach consumers in both a mail product and newspaper delivered product.
Published Monday/Tuesday/Wednesday
Mailed Distribution: 330,000 copies†
Wednesday Arizona Daily Star: 90,000† copies
Total Distribution: 420,000 copies
Delivered to 99% of all households in the Tucson area
Mailed to 350,000 households; 70,000 delivered in the Wednesday Arizona Daily Star wrapping the Wednesday Star inserts
Covers the entire Tucson Metropolitan area including Oracle and Mammoth
Provides high visibility with white, bright upgraded paper stock
Direct Mail content leader with the addition of major grocers, department stores and service providers.

Buyer's Deals:
Buyer's Deals, a coupon feature of Buyer's Edge, provides you with unprecedented reach of the Tucson area. Buyer's Deals is distributed within Buyer's Edge 24 times throughout the year.